Kinetic cold chain food packaging automatic disinfection system – the main structure includes the conveyor belt and sterilizing bin. When the goods are sent to the disinfection bin by conveyor belt, the spray nozzle of the disinfection bin will work automatically , the disinfectant will be atomized and sprayed out.
There are transparent curtains in the entrance and exit of the disinfection bin, it can instantly form enough disinfectant spray concentration in the cabin, we can disinfect parcel from six sides automatically. The goods can be disinfected in the process of transmission and cost no more time.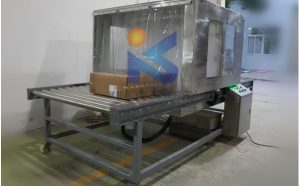 Kinetic cold chain food packaging disinfection automatic system:
The main components of the products include: ultrasonic atomization device, relay induction automatic start stop device, automatic dispensing device, liquid level automatic control system, water leakage device, leakage protection system, disinfection channel and wind proof device, etc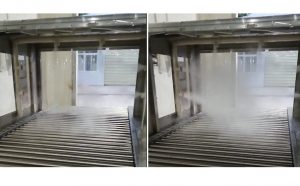 Cold chain food packaging disinfection automatic system – features:
1. Fast and efficient, 20 seconds to complete the automatic killing.
2. Automatic frequency conversion, adjustable conveying speed, forward and reverse switch, one key conversion of import and export function.
3. Six side disinfection, atomization disinfection, multi-directional nozzle to achieve six side no dead angle comprehensive disinfection.
4. Low cost, cold chain disinfectant or general express package disinfectant.
5. Super long term after-sales, two-year warranty, free distribution of one-year vulnerable parts.
6. Easy installation, module sub assembly, easy assembly, plug and play.
7. It can be used at low temperature and work normally at minus 20 ℃.
The whole process of non-contact disinfection, can also be customized.
The dimensions of the automatic disinfection system for cold chain food packaging are as follows:
Effective width: 1200mm
Roller: 304 stainless steel
Roller bracket: carbon steel spray paint / stainless steel optional
Left and right sides: stainless steel frame + transparent acrylic panel
Transmission speed: fixed frequency 7-8m / min, variable frequency can be customized according to the demand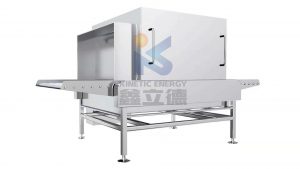 Cold chain food packaging disinfection automatic system is widely used. Our customers include refrigerated food import and production enterprises, logistics and warehousing enterprises, customs port related service companies, disinfection service companies, etc.